LuxairTours: your gateway to unforgettable journeys
Enter LuxairTours, where dreams come alive. Unveiling a treasure trove of over 50 enchanting destinations and 1000+ handpicked hotels, LuxairTours crafts unforgettable package tours, last-minute escapes, and seamless flight and hotel reservations. Be enticed by unbeatable deals on travel essentials and indulge in peace of mind with their comprehensive travel protection program.
Project Breef
Luxair is the national airline of Luxembourg and is based out of Luxembourg Airport, which also serves as the company's primary hub. It provides regularly scheduled trips to more than 90 destinations around Europe, North Africa, the Mediterranean, and the Middle East, in addition to charter and seasonal services. The airline is the only one in Luxembourg that transports passengers and provides scheduled, non-charter flights.
With Luxair's travel service, LuxairTours, you can book vacations departing from Luxembourg to more than 50 destinations and more than 1000 hotels. It offers package tours, last-minute vacations, last-minute hotel bookings, flight and hotel reservations, the best bargains on travel-related goods and services, and a travel protection program.
Based on the client's requirements and challenges, the team conducted a feasibility analysis that included a new infrastructure solution and proposals for improvements, which were implemented.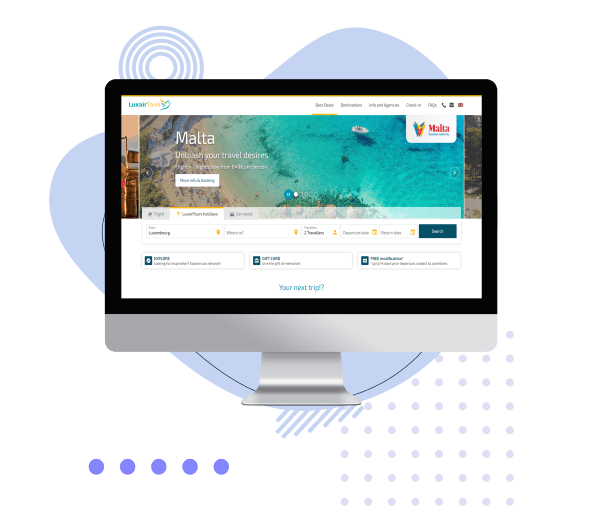 Key challenges
No unified development and testing environment
Complicated codebase maintenance
Lack of content management workflows
Severe content deployment process
Key achievements
OS independent Docker-based LOCAL environment
Implementation of Content scheduling and publishing workflows
Isolation of the content management instance from the PROD environment
Outstanding performance reached by serving CDN-stored static pages
FEASIBILITY STUDY
DEVELOPMENT
QUALITY ASSURANCE
UAT
BUG FIXING
DOCUMENTATION
LAUNCH
SLA
FEASIBILITY STUDY
DEVELOPMENT
QUALITY ASSURANCE
UAT
BUG FIXING
DOCUMENTATION
LAUNCH
SLA
Have a project you'd like to launch?
GET IN TOUCH
If you still can't decide which is the best approach towards making your idea into reality, at Bulcode we are here to analyse your business and help you decide.